ESG provides solutions to support the operation, maintenance and license renewal or plant life extension of nuclear utilities. We understand our client's needs because we have been there. We have extensive experience, not only working for companies which provide products and services to utilities, but working in utilities themselves. We have worked for, or at, over 20% of US commercial nuclear sites over a period spanning several decades.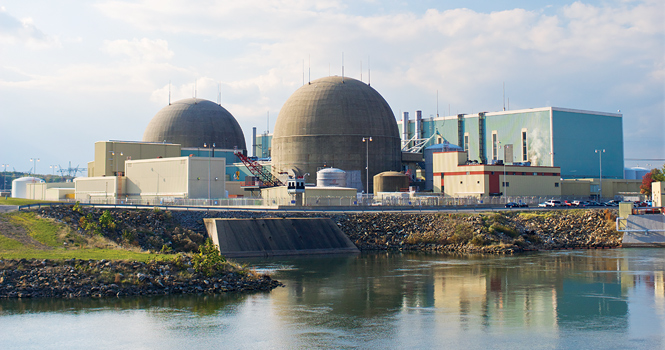 What sets us apart?
Unlike many consultants, we know utilities from the inside-out.
ESG understands the needs of utilities because we have worked for utilities serving in a wide variety of capacities. We have decades of direct experience and have served as:
EQ program Coordinator and EQ Program Engineer
Senior Staff Electrical Design and Program Engineers, and Electrical Design Engineer Supervisor
Cable and Motor Engineer
Maintenance, Field and Walk-down Engineers
CA Engineer
Tiger Team Coordinator for Emergency Situations
Procurement Engineer
Training Engineer
We leverage the diversity of our plant experience to give you a solution that represents Best Practice.
At ESG we not only have extensive experience with a broad and diverse range of positions within NPPs, we have extensive experience with a large portion of the US commercial nuclear fleet. This means we have seen how similar functions are handled in other plant designs so we can apply proven technologies and approaches based on that diversity of experience to give you the solution that works best and/or is most cost effective.
We find the best solution, rather than a solution.
Every component and piece of equipment is part of a system. At ESG we integrate knowledge of equipment, function, and plant operation that we gained working In plants, and a knowledge of electronics, mechanics, material properties, and failure modes that we've gained testing and qualifying equipment for various manufacturers, to understand your system with both the breadth and depth that is necessary to find the best solution.
We'll correct the cause - not just fix the problem. This prevents recurrence when addressed on a programmatic basis.
Some problems manifest themselves as an equipment failure or mal operation, but are in actuality related to causes external to the equipment. At ESG, our breadth of experience and diversity of expertise in materials, mechanics, chemistry, and electronics enable us to look at a component or piece of equipment as part of a system that is affected by its environment and which affects its environment, and not a stand-alone machine. Some examples might be:
A pressure transmitter keeps failing because of electrical noise in the power supply
Failure from lack of maintenance or over-maintenance (like starting a motor every hour rather than letting it run)
Leakage resulting from an improperly installed seal
We have intimate knowledge with and direct experience applying and reconciling relevant standards.
ESG personnel have extensive experience with practically all relevant US and International standards, and have even participated on a number of standards committees and conferences.
US Standards: 10CFR50.49, MIL STD 461, NUREG 0588, RG 1.89, RG 1.100, UL, FHA, RCC-E, RCC-M
International Standards: KTA, CSA, IEC 6100, IEB 79-01b, IEEE 323, 334, 344, 382, 383, 317, 572, 649, 1682
We have extensive and first-hand knowledge solving the problems facing EQ Program Managers and Engineers.
ESG Personnel have had to solve almost every kind of problem facing plant EQ Engineers, often many times over. The set of solutions we offer to support the EQ effort at your utility is extensive, and includes:
EQ Program support: EQ Design Basis Documents, EQ MEL, EQ Procedures, EQ Binder Development, EQ Preventative Maintenance, EQ Documentation Development, Plant QL Life Extension, EQ Upgrades for Power Uprate, EQMS
EQ Technical Analyses (radiation, seismic, EQ, EMC, LOCA, Qualified Life, electrical voltage/current loading studies)
EQ and seismic qualification test experience for virtually every type of equipment used in nuclear power plants; electrical structural, mechanical, instrumentation
EQ training for Engineering, Maintenance, Procurement and Management personnel
Update EQ Qualification files for equipment subject to PLEX and power uprate initiatives
We have extensive experience performing Commercial Grade Dedication.
For those situations where Qualified solutions are not available, we can perform or help you perform Dedication of commercial equipment, parts and materials to Class 1e requirements.
We have extensive experience with Electrical, Design and System Engineering.
At one point or another, we've designed, developed, tested, qualified, sold, bought, operated or maintained almost any kind of electrical equipment. We can provide key electrical equipment insights on:
Power distribution
Electrical penetrations
Pumps
Valves
Transformers
MCCs
Breakers
Switchgear
Instrumentation
Fiber optic equipment
Wireless technologies
We have particular expertise in Motors, Cables, and Connectors.
ESG personnel are noted motor experts and major contributors to key motor standards. We've also developed highly successful connectors and done extensive cable testing and work in cable aging management. In particular, we offer:
In-depth knowledge of all motor vendors and the relative strengths and weaknesses of their products
In-depth knowledge of all motor types: NEMA and A-NEMA, large squirrel-cage induction and synchronous motors, SR and non-SR
Help analyzing the various options of: drop-in replacement, new motor, or rewind/rebuild with respect to regulations like RG 1.89, EQ impact, and cost
Ability to analyze the critical features of an SR motor relative to its safety functions in order to assess the impact of a replacement motor on form, function and interface
Writing modifications
We can help your plant operate better.
Our extensive experience with plant Maintenance and Equipment Program Engineering can help you address:
Maintenance effectiveness, is it doing what it needs to do?
Awareness of specific industry operating experience: what's happening elsewhere?
Evaluate OEM manufacturing issues: Obsolescence, similarity analyses, material substitutions, process changes
Developing or reviewing walk-down procedures
We can help your plant operate more cost effectively.
Unlike some consultants who want to maximize the money you spend, we understand that the best way to sell our services is to help maximize what you save. We look for ways to increase system and equipment availability and lifetime in order to reduce your cost of maintenance and replacement. We want to reduce your outages and increase your time online and ALARA control. And helping you get an INPO1 rating saves you money on insurance. We can help accomplish this by, for example:
Equipment material enhancements: coating and materials technologies to extend equipment life
Containment penetration evaluation and repair, rather than replacement
We can help you prepare for, or deal with, failure or mal-operation.
Equipment forensics: test specimens, industry failures, unexpected issues, impact to client, help establish required corrective action
Corrective Actions: CA Plans, compensatory measures, operability evaluations, CA effectiveness, reportability SEE ABOVE